Shipping to Portugal
Offering competitively cheap rates and impressively quick delivery speeds, Impact Express is the ideal courier for shipping to Portugal, Europe and beyond.
As a country with an inspiringly rich culture and history, alongside a more than agreeable climate, Portugal has become home to a considerable number of expats looking for a taste of the Mediterranean lifestyle.
As a result of the influx of British nationals residing in sunny Portugal, the country receives a significant number of parcels from the UK. Working with DHL, Impact Express guarantee speedy delivery, alongside premium security.
Whether you're sending packages to the Algarve or Lisbon, posting parcels to Portugal has never been easier.
Shipping to Portugal: our services
At Impact Express, we have a variety of drop off and collection options available to you, to ensure your package gets to its destination in Portugal both quickly and safely.
Our dispatch options will vary depending on whether you have a 'business' or 'personal' account with us, with all options presented at the time of booking.
Whichever your preferred dispatch method, once we have received your parcel the rest of its onwards journey to Portugal will be handled by DHL, who act as our authorised courier partners.
Preparing your parcel for shipping to Portugal
For overseas shipping, parcels must be securely and safely packaged. Ensure that the contents are firmly wrapped up and use a strong outer container for maximum protection.
If your package contains fragile items, we'd advise making this clear with 'FRAGILE' tape on the exterior. All parcels should be sealed with a strong tape for added security.
Ensure that the provided print-at-home address label is fixed securely to the front of the package, with the entire address clearly displayed. It is also advised that you include a return address to aid couriers in the unlikely event of something going wrong with your parcel delivery.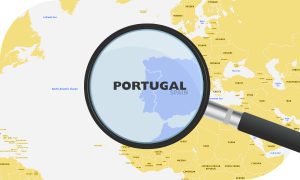 Portuguese customs restrictions
As a member of the European Union, parcels sent to Portugal are subject to strict regulation and restrictions. Items restricted from entering Portugal via post include:
Firearms and firearm parts
Lithium batteries
Live animals
Please note that, as the sender, you are responsible for checking the import restrictions of your chosen delivery destination.
Following Brexit, goods shipped to the EU will be subject to customs restrictions. To prevent any worries, the necessary information can be added when creating your shipping label, removing the need for customs invoices.
How much does it cost to post to Portugal?
The cost of sending a parcel to anywhere in Europe will vary greatly depending on its size and weight, as well as your desired delivery time frame.
At Impact Express, we strive to achieve the cheapest rates possible for delivery across the world. Please use our quote tool for pricing of courier services to Portugal and the rest of Europe.