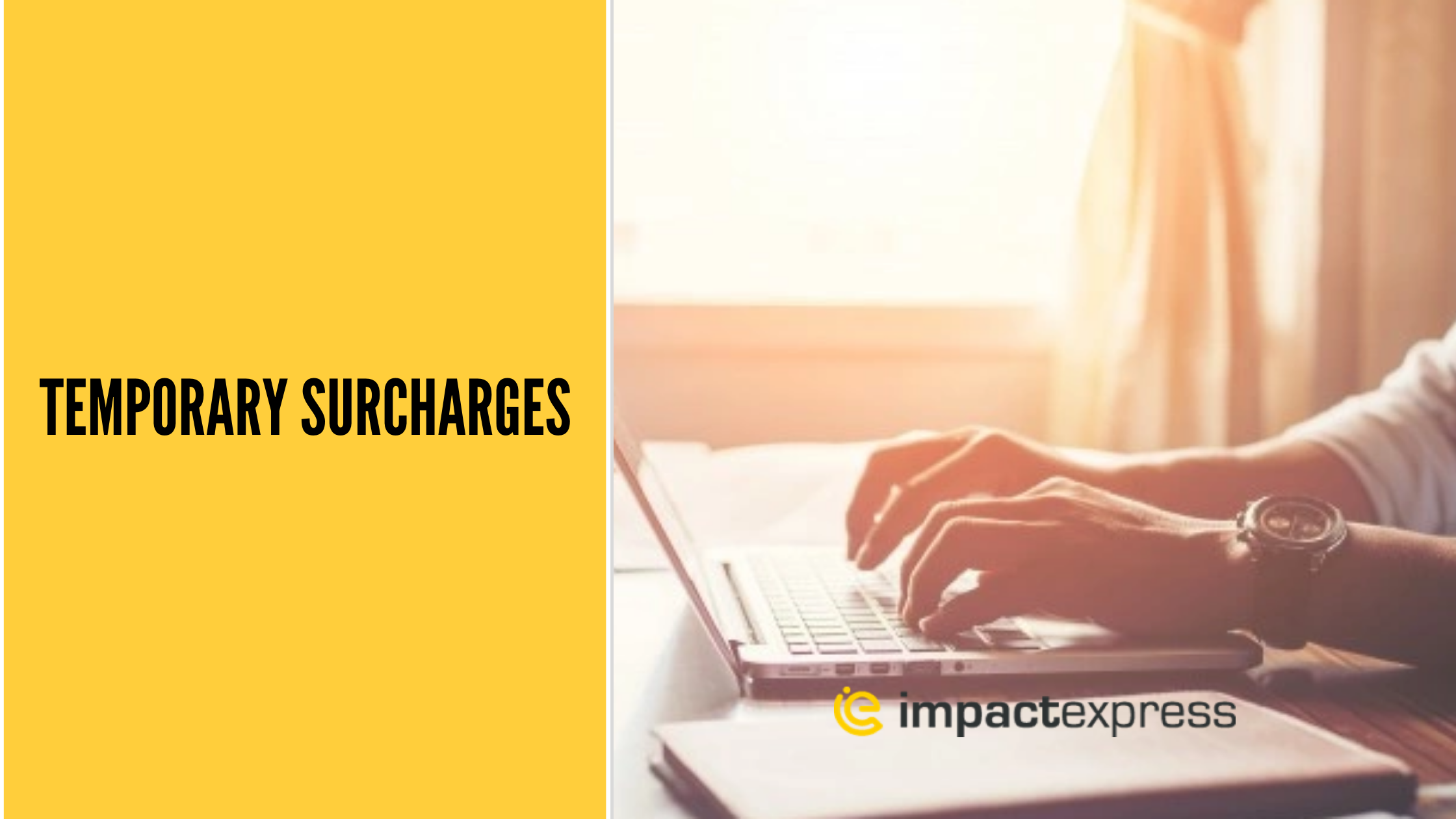 Brexit Surcharge – eff 1st Jan 2021
In addition, as you are of course aware, on 31 December 2020, the United Kingdom will leave the European Union Customs Union. While our agents are used to dealing with a wide variety of trade barriers and obstacles, this development implies the incurrence of significant additional operational cost by the company. In order to ensure the continued service excellence our customers expect, from 1 January 2021 a fee will be levied on all dutiable shipments between the UK and European Union countries, both inbound and outbound. With the information that is currently available, the intention is that this fee will be set at £0.25 per kg with a minimum charged amount of £4.50 per shipment. Please note that Fuel Surcharge will be added to this fee. This fee may be adjusted, or applied differently, should circumstances change significantly. Please note that no Brexit fee will be applied to goods moving between Northern Ireland and the EU, based on current customs law, however should this customs position change, we may need to revisit this position.
Covid 19 – Emergency Situation Surcharge Update

From the 7th November, DHL have advised there will be an update to the ESS surcharge for some countries. Please see the information bulletin below from DHL, we have updated our website to include this information. 

COVID-19 has had significant impacts on the global aviation industry, and global supply chains. In order for us to maintain a reliable and high quality delivery service for you and your customers, DHL Express introduced a temporary Emergency Situation Surcharge (ESS) in 2‌0‌2‌0.

Since the onset of this global pandemic, DHL teams have been adapting and adjusting the operations of our global network to align with new developments, regulatory requirements and constant changes in capacity and demand.

ADJUSTMENT OF THE EMERGENCY SITUATION SURCHARGE

As market conditions continue to evolve with the ongoing situation, the Emergency Situation Surcharge (ESS) will be adjusted effective 7 November 2‌0‌2‌1.

Although the ESS surcharge for most lanes will not change, we are making adjustments for specific origin/destination combinations. This adjustment reflects changes in market dynamics, air capacity availability and operational restrictions imposed related to COVID-19 measures from local governments:


Origins China and Hong Kong to destinations in the Americas region: From £0.80 to £1.80 p/kg
Origins China, Hong Kong and Rest of Asia Pacific to destination Australia and New Zealand: From £1.50 to £1.80 p/kg
Origins China and Hong Kong to destinations in the Europe region: From £0.80 to £1.14 p/kg
Origins Europe, Americas and Rest of World to destination Australiaand New Zealand: From £0.18 to £1.80 p/kg
Please note that the ESS is a temporary charge, which allows us to cover part of the operating cost increases and the necessary air network adjustments. We will continue to evaluate and adjust the ESS as market conditions evolve for the duration of this emergency situation.


| | |
| --- | --- |
| Service – Express by FedEx |   |
| Sent from UK – £0.43 per kg (minimum £0.80p charge) |   |
| Effective date 2nd November 2020 |   |
In what circumstances will the surcharge apply?
The Emergency Situation Surcharge will continue to be applicable to all Express International shipments sent via DHL and FedEx respectively . 
The ESS will not be applicable to UK Overnight and European Road services .
We kindly ask you to ensure that your invoice approval cycles and processes have been updated accordingly to avoid any delays. 
You will all have seen in the news or experienced firsthand the dramatic impact the current COVID-19 crisis is having on the global aviation industry, resulting in significant reductions or complete cancellation of passenger flights in most countries.
This Emergency Situation Surcharge will allow them to cover part of the operating cost increases and the necessary air network adjustments during the time of this emergency situation.
Latest network updates
To help you keep up to date with operations in impacted countries, you will find the latest update on the DHL network status via the link below:
www.simplydhl.com/covid-19updates
This website will be updated twice per week.
Thank you for your continued support and the trust placed in us at this very difficult time. We wish you and your family the best and we all look forward to returning to usual once this challenging time has passed.
If you have any questions on how this may effect your shipment charging, please do to hesitate to contact us on 01753 68700 or email office@impactexpress.co.uk.