Shipping to Denmark
Whatever you need to send, and however urgent it is, we provide affordable, reliable, and fast parcel shipping and courier services to all areas of Denmark.
A significant manufacturer of clothing, footwear and wooden products, Denmark plays an important role in the European economy. Strong trade links with the UK have been in place for many years.
The country also enjoys a strong service economy and is home to a sizeable cycling culture.
At Impact Express we offer competitive daily shipping to the bustling cities of Copenhagen, Aarhus, Odense, and Aalborg, as well as to all corners of this stunning collection of Nordic islands.
Shipping to Denmark: our services
We offer a comprehensive and convenient range of shipping options to Denmark. These include our Express and Standard delivery services, depending on the urgency of your delivery.
Our fully tracked Express service allows you to follow the progress of parcel deliveries. This includes next-day and next-morning deliveries.
Depending on whether you have a business or personal account, you will also be able to drop your parcel off at a designated point or arrange for it to be collected.
For less urgent deliveries, you have the choice of our Economy or two- to three-day delivery services. So whether your parcel is headed to the boutiques of Copenhagen's Strøget and Indre By, or the dunes, dense forest, and open desert of Anholt island; it will arrive safely and on time.
Parcel packaging for shipping to Denmark
The packaging of your parcel is one of the most important elements of your shipment. It is the sender's responsibility to make sure the item is safely and securely wrapped.
Use a strong outer container, secure parcel tape and padding for the inner contents. Attach a label with the recipient's address clearly marked. We also advise that you attach a return address too.
Our couriers will take the utmost care, but proper packaging and labelling will avoid unnecessary delays and / or damage.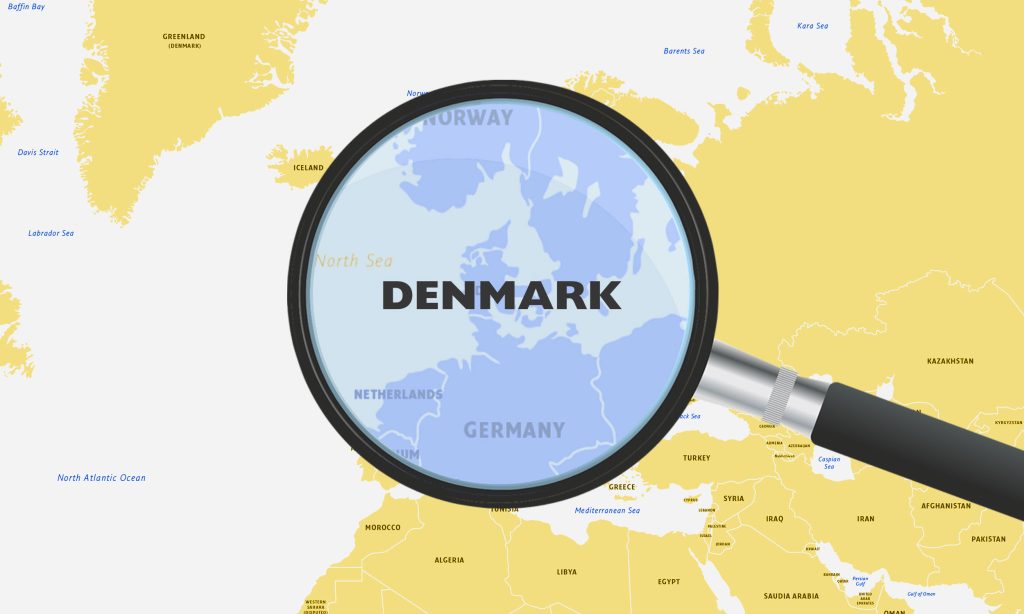 Danish customs restrictions
Denmark is part of the European Union. As of 1st January 2021, new rules apply relating to trade, customs duties, and exporting to Denmark from the UK.
As with the rest of Europe, Denmark also has its own strict customs regulations, restricting what you can import.
Denmark prohibits the import of food products containing meat or milk for personal consumption, furs, and psychotropics.
There are also restrictions on a number of items. These include, but are not limited to:
asbestos and DMF
certain beef and fish
cotton, certain rubbers, grains and soil samples
toys containing copper sulphate
several vegetables and other food items.
How much does shipping to Denmark cost?
The cost of sending your item will always depend on the size and weight of your parcel, the service you choose (Express or Economy) and your parcel's destination. However, we are confident that our shipping costs are highly competitive. You can use our Quick quote tool, or call us for an accurate figure.
Don't forget: if you are posting items of value, we also offer insurance options for an extra fee. Get in touch to find out more.